Frequently asked questions
Parties
Do you have any packages for less than 11 kids?
---
We can customize something for smaller parties. Our inflatable arena packages can make this work but we with extra expenses we cannot do this for the NERF Battlefield. Call or stop by to speak with a manager.
---
Can we substitute items in a package?
---
We can a la carte items to a package. For instace we can add tokens, ice cream cups or balloons to smaller packages to include what you want. The cake can be substituted for a pizza or chip package.
---
Are there are other parties during mine?
---
You are the only official party in the jump arena at your time. Unless renting out the fun factory, there will be open jump permitted during all times. Your party room is private for pizza, presents and cake.
---
---
General
Are there individual age, weight, or height limits?
---
There are no individual limits. The indoor center is designed for children 2-12 but adults can also play. Under 2 toddlers may struggle to get up certain aspects but will learn and help their development.
---
Can I bring outside food or drink?
---
No. You can bring your own cake for an official party but no other outside food or drinks are permitted during parties or open jump. We have vending style drinks and snacks available for purchase.
---
What bouncers do you have in the indoor center?
---
We have 5 including a slide/basketball/bounce combo, a dual 12 foot slide and a 30 foot obstacle course.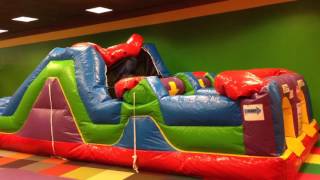 ---
Do you have a restroom?
---
Yes, we have a unisex handicap accessible restroom with a koalacare changing table.
---
Where should we park?
---
The easiest way in and out of our location is now thru the Italian Oven entrance on the second level of the mall.
---
Can I drop my kids off?
---
No. In the inflatable arena you are the operator of the bouncehouse your kid is in and cannot leave. If you are attending the party you can drop off under the direction of the party parent.
---
What should the kids wear?
---
They slide best in leggings or sweatpants. Anyone in an infatable is required to wear socks for cleanliness. Denim should be avoided.
---
What is "Open Jump"?
---
It's unscheduled play time. You don't need reservations and are not there for a party. There are no time limits and the bracelets are all day passes. If you eat and come back just ensure the jumpers bellies have a chance to rest before getting bounced.
---
---
Rentals
Do you require a deposit for rentals?
---
Yes we ask for a 50% deposit that becomes a down payment and goes towards your rental.
---
What about the weather?
---
The deposit is refundable if you or we cancel the rental due to weather. We will call you a day or 2 before to go over any concerns. If we both agree to set it up full payment is required. If there is rain or wind we will train you on how to shut the bouncer off and cover it with a tarp we leave. You can restart it when conditions are clear.
---
Are your rentals clean?
---
We clean our inflatables after every rental using 99.9% effective cleanser. We also vaccuum them and go the extra step if they get wet of ensuring they are dry inside and outside so there is no mold buildup. Most of our rentals are only a couple years old but we don't think you could tell which ones are a couple years older.
---
---
Arcade
Is there an admission fee for the arcade?
---
No. Games cost 1-4 tokens.
---
Do the games take quarters?
---
No. Our games take 1-4 tokens depending on the game. Some can take single dollar bills. We have 2 token machines that can change 1's and 5's into tokens. We can give change at the register and convert quarters to dollars for you. One of the token machines also accepts cards for a $5 purchase. (80 tokens) There is no fee for using a card to purchase tokens.
---
What games do you have?
---
Air Hockey Basketball (no tickets unless you break the record) Let's Go Jungle Side by Side Racecars-Dead Heat 2 Iceball games Big Bass Wheel Fishin' Time Big Buck Safari Galaga/Pacman Triple Play Ball Drop Smokin' Token Winners Wheel Key Master 3 Prize Time Claws (Emojis, Balls, Minions) 1 Duck Claw Machine (Play until you win)
---
Can you save tickets?
---
Absolutely.
---
---
Frequently asked questions about the family entertainment center, arcade, rentals, inflatables and having a party.